CBT Recognized on CRN's 2023 Solution Provider 500 List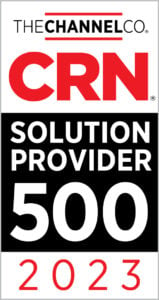 We're honored to announce that CRN®, a brand of The Channel Company, has named CBT to its 2023 Solution Provider 500 list!
CRN's annual Solution Provider 500 ranks North America's largest solution providers by revenue and serves as the gold standard for recognizing some of the channel's most successful companies. This year's list of companies represents combined revenue of more than $475.9 billion, and the honorees are among the top influencers impacting today's IT industry and the global technology supply chain.
"As a thirteen-time winner, CBT is honored to have been awarded the prestigious CRN (The Channel Company) Solution Provider 500 title," said Rob Schaeffer, President and COO of CBT. "We are proud to provide our customers with cutting-edge solutions that seamlessly integrate operational technologies (OT) and information technologies (IT), giving them a distinct competitive advantage. Thank you to CRN and our partners for this recognition."
"It's a distinct honor to recognize CRN's 2023 Solution Provider 500. These are today's top technology integrators, strategic service providers, and IT consulting firms, making this list the go-to resource for creating strategic partnerships among technology vendors and today's top-performing IT solution providers," said Blaine Raddon, CEO of The Channel Company. "My heartfelt congratulations go out to each of these companies for the significant impact they make on the continued growth and success of the IT channel."
CRN's 2023 Solution Provider 500 list will be available online at www.CRN.com/SP500, and a sampling of the list will be featured in the June issue of CRN Magazine.
See more of CBT's accomplishments on our achievements page.