CBT & College of Medicine Revolutionizing Medical Training in Underserved Communities
Overview
A leading US College of Medicine has the mission to improve nurse and midwife training in underserved communities across the globe to ensure top-level care for every patient and eliminate the current epidemic of preventable deaths during labor and delivery. The College of Medicine is working with CBT to develop, fund, and deploy a mobile, virtual reality training application to give local care providers an easy-to-use platform for rapid upskilling. The College of Medicine has developed strong ties with West Africa and will deploy the pilot at their local outreach clinic dedicated to maternal health. After completing the training application pilot, CBT and the College of Medicine plan to incorporate a Connected Worker solution utilizing wearable compute to connect local practitioners in remote locations with real-time expert obstetrician advice and resources.
Seeing is believing. Request a demo of CBT's Connected Worker technologies today.
The Challenge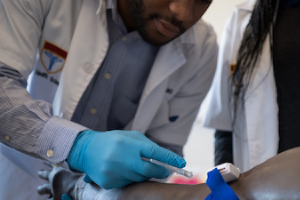 Currently, 95% of maternal deaths in the College of Medicine's pilot region of West Africa are preventable with the proper medical care. Mothers in the area need access to quality healthcare facilities and services that can manage the complications associated with childbirth. These challenges are mirrored in many underserved communities across the globe, where nurses and midwives have little to no access to quality training or expert resources to monitor and improve their skills. The College of Medicine's ultimate goal is to eliminate 100% of preventable deaths during childbirth.
The College of Medicine's plan to prevent maternal deaths due to avoidable complications starts with developing and implementing an evidence-based training program. The challenge for this first-of-its-kind training program is quickly bridging the urgent need for new skills without in-person experts to mentor nurses and midwives in complicated, life-or-death scenarios. The training must deliver engaging simulations of real-life scenarios that build competency while also supplying the data analytics and reporting necessary to rapidly identify critical skills gaps.
The College of Medicine's long-term goal is to deploy obstetrics "smart pod" units where each nurse or midwife is outfitted with a wearable-compute device that enables hands-free connectivity between the local team and expert resources from anywhere in the world. These smart pods will be equipped to perform cesarean deliveries, administer hands-on obstetrics and anesthesia training courses, and provide sustainable training and skill maintenance. The primary challenge to this approach was how to effectively connect the U.S.-based expert resources and instructors with local smart pod teams in remote areas with little existing connectivity or infrastructure.
To address these challenges, the College of Medicine needed an expert partner that could help develop a groundbreaking virtual reality training mobile application and had the hardware and infrastructure expertise to integrate this pilot application into an end-to-end solution that aligns with the long-term smart pod vision.
The College of Medicine was also struggling to secure funding for the project, including the significant cost of the smart pod infrastructure, international transportation, and localized infrastructure setup. CBT's SVP of Engineering Services is a member of an international humanitarian service organization, Rotary International, with one of its areas of focus being Maternal and Child Health. With this overlap in mission objectives, he's working with Rotary's international network of Clubs and Districts to promote a Global Grant for the College of Medicine's project initiative.
The Solution
The College of Medicine partnered with CBT due to our extensive experience with Connected Worker solutions and our proven IDAAS (innovation delivery as a service) methodology. This design-thinking process, combined with 20 years of experience delivering custom enterprise solutions, enables CBT to uncover requirements and solution combinations others may not have previously imagined plausible. Additionally, following CBT's crawl-walk-run approach minimizes risk and enables the College of Medicine to fail fast and innovate.
"CBT goes above and beyond to ensure project delivery, even for complex medical projects. They understand and share our organization's goals and have been instrumental in effectively communicating the vision with our team and key stakeholders."

M.D. & Global Health Fellow, College of Medicine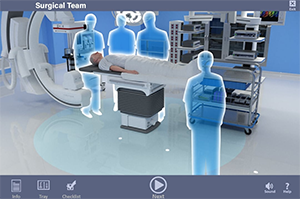 Through this approach, the College of Medicine and CBT devised a roadmap that focused initially on delivering an evidence-based training program through a mobile application. The application utilizes virtual reality to deliver intuitive micro-simulations of real-world scenarios that help users perform key decisions while demonstrating knowledge acquisition with confidence. It uses short bursts of learning to efficiently focus on key experience gaps that normally require real-time or hands-on instruction to fill. The application's virtual scenarios are available in a rapid-learning environment accessible anytime and anywhere.
The application also includes data analytics to enable automatic remediation. Based on responses to the simulated scenarios, nurses and midwives are offered immediate feedback, mentoring, educational references, and links to other helpful training.
The second phase of the College of Medicine's project will include the deployment of two expandable, prefabricated obstetrics medical facilities (smart pods), didactic and hands-on training by faculty MDs, and remote mentoring through wearable compute to augment and sustain these initial training efforts.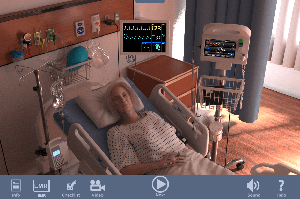 CBT will integrate a custom software configuration into one of the industry's leading wearable devices. This solution will handle all voice commands including strong regional accents, will easily be durable enough for rugged environments and harsh climates like West Africa (dirt-, drop- and waterproof), and will not impair the user's view. The solution will enable bi-directional audio and video sharing via conferencing technology that allows experts in the U.S. to see through a nurse or midwife's eyes and coach them through complicated procedures. There's also the possibility to expand the solution to include a digital resource library and step-by-step workflow instructions, all delivered hands-free through the wearable device.
The Benefits
CBT's consultative approach, deep engineering expertise in both information (IT) and operational technologies (OT), and understanding of customer needs make us a great fit to build a customized solution with the College of Medicine.
The initial training application will solve the immediate need for an easy-to-use training platform to rapidly upskill care providers in remote environments without access to traditional resources. It will help nurses and midwives learn in real-world scenarios, demonstrating their knowledge application and confidence while identifying unconscious bias and learning deficits.
In the future, deploying the complete Connected Worker solution in the College of Medicine's smart pods will provide isolated obstetrics teams with the full, end-to-end support they need. It will provide connection to expert resources in critical scenarios, sustainable training, and skill maintenance with telemedicine enabled on a wearable.
Maternal health is of foremost concern when it comes to the adverse health effects inherent to limited access to healthcare in underserved areas like West Africa. The health of mother and child is intimately connected to the ability of the mother to reach a quality healthcare facility that is equipped with technology and healthcare providers capable of providing proper management for the complications associated with childbirth.
With the mobile training application (and eventual Connected Worker-enabled smart pods), the College of Medicine can be confident it has well-trained nurses and midwives enabled with the best tools to provide top-level care to every patient. Together with CBT, the College of Medicine's goal to turn the tide on avoidable maternal death is becoming a reality.
---
You can also download the content as a pdf below!