Second Annual CBT Top 100 IoT Influencers Award
We are excited to announce our second annual Top 100 IoT Influencer Award Winners, curated based on CBT's reach and experience in the IoT ecosystem; thank you to all the thought leaders who didn't make it onto this list or any other list who should have voice and recognition as well. You are superstars. The coveted number one spot was awarded to Jeff Winter, Industry Executive for Manufacturing, at Microsoft.
Also see our IoT Transformation Leader of the Year page to see the other part of our 2022 IoT Awards and learn about our winner, Ashish Agrawal of KONE.
The global Internet of Things (IoT) market size is forecasted to be $478 billion in 2022, with an expected CAGR of 26.4% through 2029 according to Fortune Business Intelligence. IoT technologies function as the global infrastructure for our information society, enabling advanced services to interconnect things based on existing and evolving communication technologies.
CBT is an industry leader in implementing award-winning IoT solutions at scale. Based on our experience we have curated a list of the Top IoT Influencers for 2022. The winners are among the pioneering influencers and practitioners, driving digital transformation in both the Consumer and Industrial settings.
To learn more on how to successfully implement IoT, hear how our customers are optimizing their operations here.
"As a recognized industry advisor and thought leader for IoT, CBT is delighted to share our knowledge and expertise to create this award as a 'trustmark' for the Influencers that we believe are pushing technology forward and shaping the future," said Rob Schaeffer, President, and COO of CBT. "On behalf of CBT, we congratulate and thank all of the winners of the second annual IoT Influencer Awards."
Top 100 IoT Award Winners
First place goes to Jeff Winter, Industry Executive for Manufacturing, Microsoft, all other winners are listed alphabetically.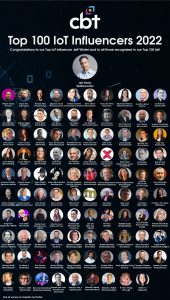 Jeff Winter
Mazlan Abbas
Gokul Alex
Alasdair Allan
Mauricio Amaro
Chelsea Andrews
Kevin Ashton
Alicia Asín Pérez
Stephanie Atkinson
Jonathan Ballon
Jan Barbosa
David Bartlett
Wilhelm Bielert
Olivier Bloch
Kirk Borne
Gert Botha
Tom Bradicich
Chuck Brooks
Neil Cattermull
Eric Charran
Andrew Chrostowski
Paul Colmer
Sarah Cooper
Jeff Daniels
Fabio de Pasquale
Ted DellaVecchia
Johan den Haan
Sally Eaves
Daniel Elizalde
Beverley Eve

Abby Ferri

Jenny Fielding
Lucian Fogoros
Jennifer Follett
Dave Food
Ian Fountain
Emily Friedman
Jeff Friedman
Diego Galar
Kai Goebel
Eng Lim Goh
Avrohom Gottheil
Antonio Grasso
Dean Gratton
Sarah-Jayne Gratton
Jennifer Halstead
Amanda Healy
Howard Heppelmann
Stacy Higginbotham
David Hill
Dion Hinchcliffe
Blaine Hoffmann
David Howard
Jane Howell
Shawn Hymel
Wallace Jackson
Ajit Jaokar
Kipp Jones

Jeff Kagan

Christina "CK" Kerley
Greg Khan
Evan Kirstel
Maciej Kranz
Elitsa Krumova
Leonard Lee
Jay Lee
Fei-Fei Li
Maribel Lopez
Chuck Martin
Tamara McCleary
Enrico Molinari
Daniel Newman
Michele Null
Colin O'Flynn
Barbara Pareglio
Tom Raftery
Walker Reynolds
Carolina Rudinschi
Isaac Sacolick
Sanfjib Sahoo
Khwaja Shaik
Ira Sharp
Eric Simone

Harold Sinnott

Peggy Smedley
Vinay Solanki
Charlie Stack
Andy Stanford-Clark
Cameron Stevens
Andrew Thomas
Rob Tiffany
Kevin Tofel
Rob van Kranenburg
Ronald van Loon
Anthony Veri Jr
Marcell Vollmer
Marcia Walker
R "Ray" Wang
Helen Yu
To learn more about CBT's IoT solutions or apply for next year's list, contact us below.