CBT Honored with 6th Consecutive IoT Innovators Award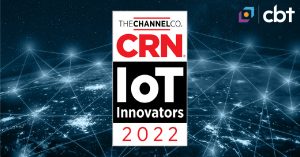 We are honored to announce that CRN®, a brand of The Channel Company, has named CBT as one of its IoT Innovators Award winners. CRN's sixth annual IoT Innovators Awards pay tribute to North American solution providers that have displayed an aptitude for not only developing transformative Internet of Things solutions but also helping their customers adopt and implement those offerings to great effect.
Every year, CRN pays particular attention to the organizations that work to make IoT a key part of their larger digital transformation portfolios. IoT facilitates the collection and use of crucial data to provide actionable business insights. Organizations honored with this year's IoT Innovators Awards have demonstrated a consistent ability to develop powerful new IoT solutions that add ongoing value for their customers.
CBT is a recognized leader in the Internet of Things (IoT) space, most notably for its role as the integration leader at Texmark Chemicals' Refinery of the Future, which won Best Ecosystem Project at the 2021 PTC Partner Network Awards. In addition, CBT has been tied to large-scale IoT projects with Fortune 50 companies across multiple verticals, including manufacturing, oil and gas, utilities, construction, and healthcare. Unlike a traditional systems integrator, CBT bridges the gap between information technologies (IT) and operational technologies (OT), becoming a trusted partner of companies like Hewlett Packard Enterprise, Intel, PTC, RealWear, and more. In addition to the 2022 CRN IoT Innovators Award, CBT was also named CRN Solution Provider 500 and Tech Elite 250 in the same year.
"What a testament to CBT's early entry into all things IoT and our diligence in sustaining through thick and thin! We are honored to be named again to the CRN IoT Innovators Award for the 6th consecutive year," said Kelly Ireland, Founder, CEO, and CTO of CBT. "We have been recognized since the inception of this award, a testament to the hard work of the extended CBT team and our ecosystem partners to keep our solutions at the forefront of the industry and ensure our customers' success. It has taken an immense amount of investment and years of 'roll up your sleeves' front-line work to persevere in the pioneering aspects of IoT. CBT is proud to lead the charge, delivering the value customers require as they start their digital transformation journeys."
"This year's IoT Innovators Award winners have once again demonstrated creativity and business savvy when it comes to building IoT solutions," said Blaine Raddon, CEO of The Channel Company. "As always, award recipients are chosen based on their ability to develop forward-thinking IoT solutions, adapt those solutions for large-scale commercial use, and help their customers implement those offerings so they can exceed conventional expectations and drive innovation in their respective industries. Congratulations to all the 2022 IoT Innovation Award winners!"
The IoT Innovators Award list is featured online at www.crn.com/IoTinnovators. Check out all of CBT's accolades on our achievements page!