CRN Recognizes CBT on 2022 Solution Provider 500 List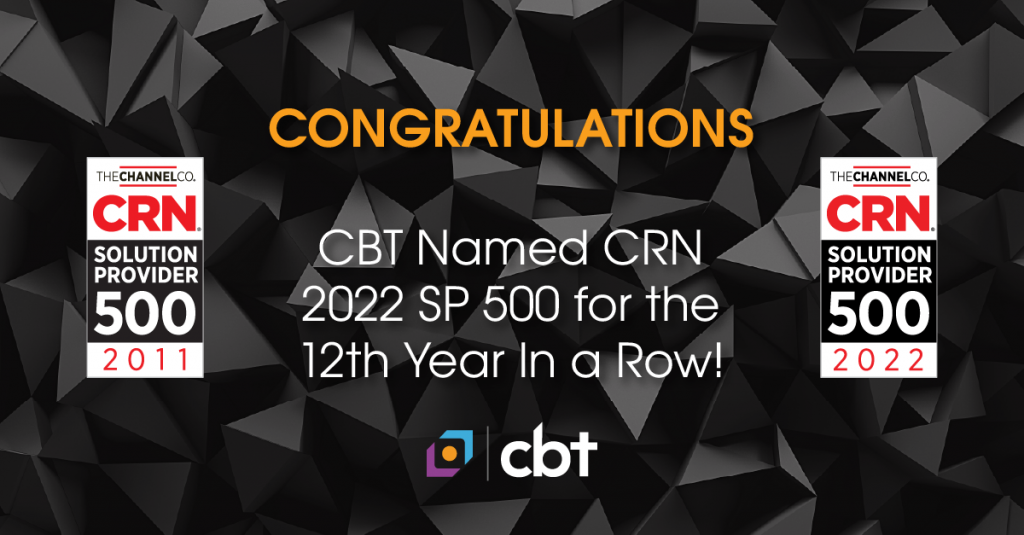 We're proud to announce that CRN®, a brand of The Channel Company, has named CBT to its 2022 Solution Provider 500 list.
CRN's annual Solution Provider 500 ranks North America's largest solution providers by revenue and serves as the gold standard for recognizing some of the channel's most successful companies. With combined revenue of more than $434 billion, this year's list represents an impressive amount of influence and impact wielded by these companies on today's IT industry and the technology suppliers they partner with.
CBT is an award-winning, Domain Expert Integrator at the forefront of enterprise digital transformation. As a trusted partner to some of the world's largest companies, CBT focuses on identifying and delivering solutions that help customers solve their most pressing technical and business challenges.
"As a twelve-time consecutive winner, CBT is honored to have been selected by CRN (The Channel Company) to its prestigious Solution Provider 500 roster of companies," said Rob Schaeffer, President, and COO of CBT. "We continue to be inspired by our customers and are privileged to deliver world-class solutions that bridge the gap between operational technologies (OT) and information technologies (IT) to ensure them a leading-edge advantage. Thank you to CRN and our partners for this recognition."
"The Solution Provider 500 list from CRN serves as the benchmark for the top technology integrators, strategic service providers, and IT consulting firms, making it an invaluable resource for technology vendors seeking to partner with today's top-performing IT solution providers," said Blaine Raddon, CEO of The Channel Company. "My congratulations go out to each of these companies for their extraordinary contributions to the continued growth and success of the IT channel."
CRN's 2022 Solution Provider 500 list is available online at www.CRN.com/SP500 and a sample from the list will be featured in the June issue of CRN Magazine.