How CBT is Reducing Risk in Construction with Augmented Reality "X-Ray Vision"
Overview
The construction industry is made up of a lot of regional mom-and-pop companies that are often too small to invest in the research and development of cutting-edge technologies like augmented reality. This can lead to outdated, manual processes that leave construction companies at risk of human errors. Even small mistakes in construction projects can lead to significant financial and safety issues. CBT is working with a large, national construction company based in Michigan that is breaking the traditional mold and utilizing its leadership position in the industry to prove technology solutions can create more control, safety, and efficiency in the overall construction process.
Augmented Reality is here to stay, but how do you successfully implement IoT? Contact our team and let us help you solve your unique business challenges.
The Challenge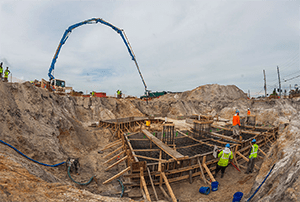 The Construction Company has projects across the U.S. and approximately $2 billion in revenue. It has proven to be an exception to the construction industry norm due to its innovative mindset. In the past, the Construction Company has used augmented reality and virtual reality (AR/VR) for new construction design. Now, it wants to avoid unnecessary risk and line strikes by utilizing augmented reality to map underground infrastructure, utility plants, power lines, and other critical assets.
The initial use case stemmed from one of the Company's clients. The client was looking to map the underground lines of an old gas compressor station. The information and previous mapping that they had to work from were out of date, increasing the risk of digging in an area where pipes are located. Relying on historical paper records and memory for projects like this is a dangerous pursuit when missing the target location by a matter of feet can trigger a devastating explosion that causes significant damage and possibly takes lives. The Company mentioned to CBT that it would benefit from the ability to see through the ground and verify the placement of critical infrastructure. However, they did not know of any possible solution to fit this need.
The Solution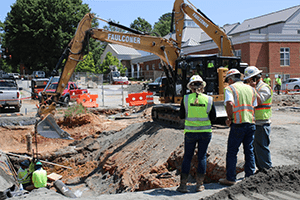 The Construction Company's goal was to create an augmented reality solution that enabled "x-ray vision" for mapping gas lines so it could prevent underground utility strikes or explosions. Utilizing our extensive partner ecosystem, CBT was able to find a set of complementary technologies that could be integrated to solve the Construction Company's problem.
The pilot solution proposed by CBT will utilize handheld tablets integrated with GPS-enabled devices. These devices leverage satellite data to assure the accuracy of the gas lines within a centimeter.
CBT will also use a geographic information system (GIS) that offers a framework for gathering data, organizing layers of information into visualizations using maps and 3D scenes, and analyzing data related to spatial location. CBT will also integrate any data that the city virtual design group has on record, including computer-aided design (CAD) files.
The Benefits
The virtual GIS and augmented reality technologies CBT is implementing create an "x-ray" view of a job site. By opening CBT's application enabled on a handheld tablet, workers will be able to view underground infrastructure.
The solution transforms traditional 2D CAD and GIS data into augmented reality displays that overlay the physical environment in front of the worker. Underground utility infrastructure, such as water pipes, sewage systems, gas, and electrical lines, appear as a natural extension of the real world.
On average, the Construction Company reported its clients to experience two thousand incidents per year of unintentional damage to unseen infrastructure. Not only will CBT's solution save the Construction Company and its clients a significant sum of money on infrastructure triage by reducing the number of accidents, but it will also increase safety for the workers. The trickle-down effect of this includes reduced workers' compensation claims and potential insurance and compliance savings.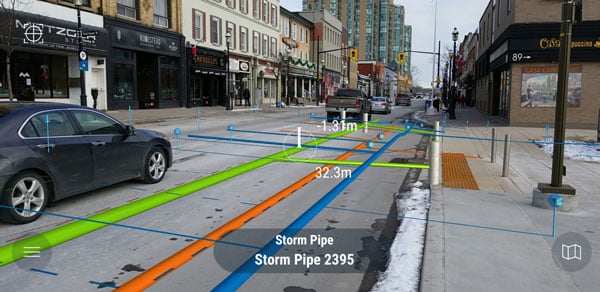 Looking Ahead
In the future, the Construction Company is looking at ways to incorporate Connected Worker solutions like wearable compute to further enhance information and resource delivery for their onsite teams.
---
You can also download the content as a pdf below!