IoT Community Names Kelly Ireland, CBT's Founder, CEO, and CTO, 2022 Woman of the Year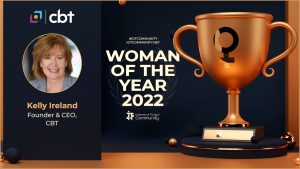 We are honored to announce that IoT Community – Internet of Things Community® has named Kelly Ireland, CBT Founder, CEO and CTO as the Woman of the Year for 2022! Now in its second year, the award recognizes excellence at the highest level within the IoT ecosystem. Kelly was selected from a highly competitive field of thousands of members and the extended IoT Community, including technologists, thought leaders, influencers, and entrepreneurs.
"We are proud to name Kelly Ireland, Founder, CEO & CTO of CBT as the 2022 IoT Community Woman of the Year," said David Hill, Executive Director at IoT Community. "Kelly has made huge contributions across the IoT Community ecosystem in 2022, from Chairing our Diamond Panel to presenting a joint Keynote discussion focusing on Leadership in IoT for the WIoTCoE. Kelly is a true inspiration who continues to demonstrate great leadership as an employer to her employees as well as through driving innovation across the industry. Kelly remains a fierce advocate for the push to a more diverse and fairer ecosystem. THANK YOU, Kelly, from everyone in the IoT Community family for all you do!"
Kelly won this award because of her ground-breaking work and accomplishments at CBT. She joins the esteemed inaugural winner of Woman of the Year, Jane Howell, Product Marketing Expert at SAS. In addition to this award, IoT Community also named Andrew Morawski, Senior Vice President and General Manager of Oracle Communications, Man of the Year and SoftServe, the digital authority that advises and provides at the cutting-edge of technology, Corporation of the Year.
"CBT is proud to be a part of the IoT Community and to share our expertise while we grow alongside our fellow influencers who are shaping the future of technology," said Kelly Ireland, CBT Founder, CEO and CTO. "At CBT we have always focused on the art of the possible, making investments in IoT years before it was commercially viable. It's edifying to be able to support our customers in ways that could not have been imagined just a few years ago. Thank you to the IoT Community for this honor and for the leadership forum that you have created."
Read more about CBT's accomplishments on our achievements page!