What is a Domain Expert Integrator?
Escalating the innovation process to move beyond ideation
Industry leaders have been talking about the convergence of information technology (IT) and operational technology (OT) and the importance this plays in the emerging areas of Industrial IoT, Smart Manufacturing, and Industry 4.0. This convergence will soon be a requirement for systems, standards, and the responsibilities of respective leadership.
Consider high-tech machines on the factory floor, fleets of trucks, and anything that has four or more wheels and is used for highly technical purposes, drills, industrial robots, whatever fits in the context of operational business, industrial activities, and assets. Traditionally, IT had little to no involvement in these areas but as connectivity and data collection improve, the line between IT and OT blurs. Industrial assets and operational workers become less standalone the deeper they're interconnected. IT departments should now be closely involved due to the critical role that technology, people, and related information play.
However, IoT deployment is still in the early stages and most organizations don't yet have the skills, expertise, or time to drive the IT/OT alignment requirements. The IT and OT worlds are often independent of one another and convergence presents a challenge for many businesses. For example, you're unlikely to see an IT worker repair a high-tech vacuum pump, and, similarly, you won't see a plant operator sit in a meeting on using predictive analytics to protect the corporate network from cyberthreats.
The same continuity gap is true about customers' partners and vendors for IT and OT. Historically, there has been no one-stop-shop that provides solutions and value to both sides of the house. Systems integrators (SI's), value-added resellers (VAR's), or independent software vendors (ISV's) contribute to the IT space but are quite separate from OT conversations. On the operation side, there are terms like domain, which is to suggest something unique in that space. There is expertise, limited in a particular domain of the operational side of the world. And now, the challenge is how to get those two worlds to come together and leverage technology for the benefit of all.
The goal is to come together and build cohesive strategies whether it's human capital, an individual that's delivering the value proposition, or a piece of machinery. That machinery could be within the data center or outside in the field, as well as in the respective reporting structure within an organization. Those worlds are unique. They're unique because one reports to the CIO, and one is ultimately reporting to the COO.
Working Together
In IT, there are partners that can deliver compute, storage, network, services, consumption, and cloud in an operational or capital expense model. In OT, it's wearable devices, sensors, equipment and there's unique nomenclature specific to operations. These partners create technology and equipment that are unique to an operation, a use case, or a human that's going to use the device for the required benefit/outcome. They're not driving holistic solutions that foster IT/OT convergence.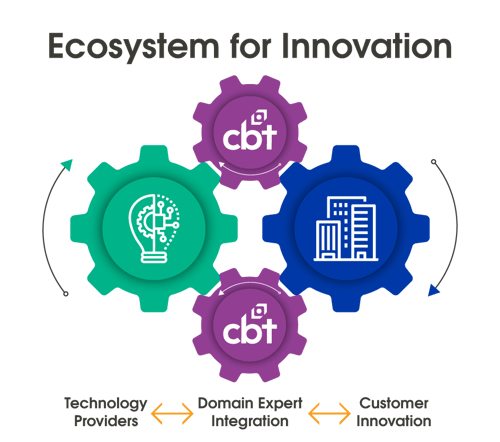 The domain expert integrator is one of the unique commonalities and is the entity that drives the convergence of both OT and IT. They have unique knowledge and skill sets developed on both sides of the IT/OT equation…and this is where CBT shines! CBT can architect and design aggregated solutions that become integral pieces of our customer's day-to-day business and value proposition.
The only charter in a domain expert integrator's life is customer satisfaction. That customer outcome is being delivered, as designed, with a collection of impartial insights from the customer, the OEM, and any other partners involved in the project. Outcomes are based on experiences and based on references that allow the process to mature into the final solution when it becomes a living breathing entity.
Connecting the Two Worlds
The importance of IT/OT convergence is driving efficiency, and that efficiency is defined by providing unique value. Domain expert integrators are the only type of company that can provide these services or does this kind of work, so there is a unique value to the rest of the world. This puts CBT in a position to help drive revenue, profit, and market share for our customers.
Think about the ability to leverage technology across the entirety of the organization; to provide new solutions, improve employee safety, and offer unique value to customers. Executing this at speed, at scale, with an appropriate cost structure that is consumable to a large audience is a differentiator. When it is done this way, you win the day and the game in a positive way. Essentially, it's a win-win-win situation for everybody. And, to be able to do that, it takes an adept visionary. Also, it takes discipline and a methodical approach to team building, because it takes a team; no one entity is going to create this uniqueness in this success quotient.
It's important for customers to assess their partners carefully, to be open-minded and open-hearted in terms of being vulnerable to know as a company, what you are good at and where assistance is needed. When domain expert integrators are employed, they complete the solution and enable faster delivery of a more robust solution that will converge IT and OT.
CBT, to be specific, is a domain expert integrator that leverages a customer's people, data, finances, and the resources that are already built to give them extended life and speed business transformation.
If you want to learn more about CBT, our role as a domain expert integrator, and what CBT can do for your business, schedule a meeting today.