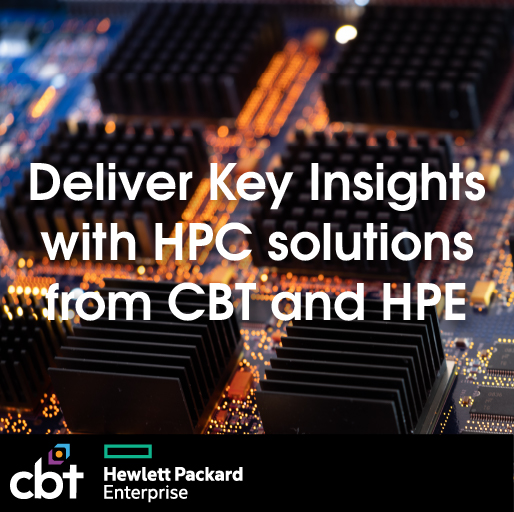 Deliver Key Insights with HPC solutions from CBT and HPE
Have you been interested in HPC but thought it was too daunting or didn't know where to start? You've come to the right place. Tune into the new podcast series featuring Craig Reagan, Enterprise Account Manager for HPC at CBT and Nick Kjemperud, Higher Performance Compute / AI Specialist from Hewlett Packard Enterprise, to learn how to transform IT with HPC.
Listen to learn more about:
The value that HPC can add to an organization
How to drive data-intensive workloads

with HPC

The uniqueness

of HPC in today's fast-moving marketplace

Leveraging the benefits of edge-to-cloud computing
Listen here
Episode 1: Maturing Your HPC Journey
HPC has started to become more mainstream in recent years. Organizations are increasingly more interested in how HPC can help them with things such as modeling, increasing time to market, and working on products. Craig and Nick discuss why HPC is a key strategy for delivering powerful, efficient solutions for the modern enterprise.
Episode 2: AI Data Analytics and Business Insights
Driving competitive advantage today in business requires gathering clear data insights at the speed of the market. Managing that data is where most organizations fall short. HPC can do what would normally take weeks or months in just minutes or days. Craig and Nick dive into how data intensive workloads are driving a deeper respect and need for HPC and how to leverage artificial intelligence and data analytics to drive successful business outcomes.
Episode 3: Private Cloud GreenLake HPC
The goal of the HPC as a service option is to provide flexibility and predictable pricing for an unpredictable world. HPE Greenlake edge-to-cloud platform provides the ability to use your data to make faster business decisions and reduce time to discovery. Craig and Nick discuss how to leverage the benefits of HPE Greenlake for HPC.
Learn more
For more information about CBT and HPE's HPC solution visit our HPC and Analytics page.
Contact our HPC team here and let us help you solve your most complex business problems.