5 Ways Connected Worker Technology Enhances Employee Training
Training is a vital part of onboarding employees and keeping them up to date with changing processes and evolving technologies. For companies that employ frontline workers, such as those in the construction and utility industries, training can be challenging because trainers need to be in a piece of equipment with the trainee, on an adjacent piece of equipment, or at a distance.
Today, the pandemic complicates training even more by making working closely with a trainer unsafe. Connected worker technology can solve many of the problems with training and even enhance the training process by increasing its capabilities and making the experience more exciting for trainees.
Here's a look at 5 ways connected worker transforms the employee training experience:
1) Acceleration
The faster a company can train employees, the more quickly workers can go into the field or onto the factory floor to begin doing their jobs. Connected worker uses the connection between a head-mounted wearable device and company databases to give employees access to training materials, removing barriers to training progress.
Connected worker technology makes it possible for trainees to go through training at their own pace. Training can be conducted in the field without the need for physical training manuals or the presence of a trainer.
2) Access to Experts
Automation.com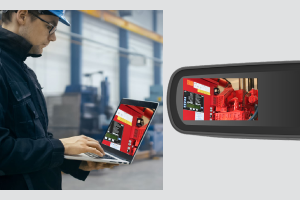 identified the changing role of subject matter experts (SMEs) as a key factor in promoting the success of today's remote workers. With remote mentoring, connected worker gives trainees access to SME guidance no matter where the employee and trainer are located.
Remote training means the company can reduce the time and money it spends on trainers traveling to the training site. The trainer no longer needs to be present in the field or on a piece of equipment to give instructions.
Through the head-mounted device, trainees can share their perspectives with a trainer using a real-time video feed. The trainer can then give the trainee real-time instructions for completing a task.
3) Hands-Free Capabilities
When going through field training, an employee is encumbered by traditional instruction manuals. Employees need to keep their hands free for safety and to enable them to get hands-on experience performing new tasks.
Connected worker is a hands-free solution. The headset has audio capabilities, such as voice command, that make it possible to request information or perform certain tasks. The solution connects with a desktop or laptop at the company headquarters so that instructional materials can be viewed through a video feed.
4) Augmented Reality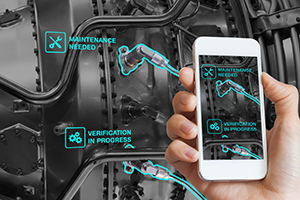 One of the most exciting connected worker capabilities is augmented reality (AR). The headset allows the employee to experience an interface between reality and the digital realm.
Video can create a digital overlay or on-screen annotation on a real-time image of a piece of equipment. The digital overlay can show the trainee how to take a piece of equipment apart or give instructions on how to perform a repair. AR can also create a representation of the way systems work inside an asset or building.
5) 3D Modeling
3D modeling allows the trainee to see an in-scale rendering of parts or a complex asset. The model can show how a part is constructed and comes apart and give a view of the inside of a part or piece of equipment.
The 3D modeling functionality of connected worker gives employees a more comprehensive and realistic understanding of the equipment they are working with. Trainees can participate in real-world scenarios for more meaningful training that sticks with them.
Delivering the Wow Factor
With connected worker, training becomes an exciting and memorable experience. When employees are given a more immersive, visual, and hands-on training experience, they learn faster and retain information longer.
CBT can help your company create a customized Connected Worker solution for employee training and much more. We use leading wearable technologies and combine them with tailor-made software to meet the unique training needs of your company.
See how Connected Worker can enhance employee training. Request a demo from CBT.